SERVPRO of East Sacramento/West Arden Arcade - Protecting your Business from Fire Damage
5/27/2022 (Permalink)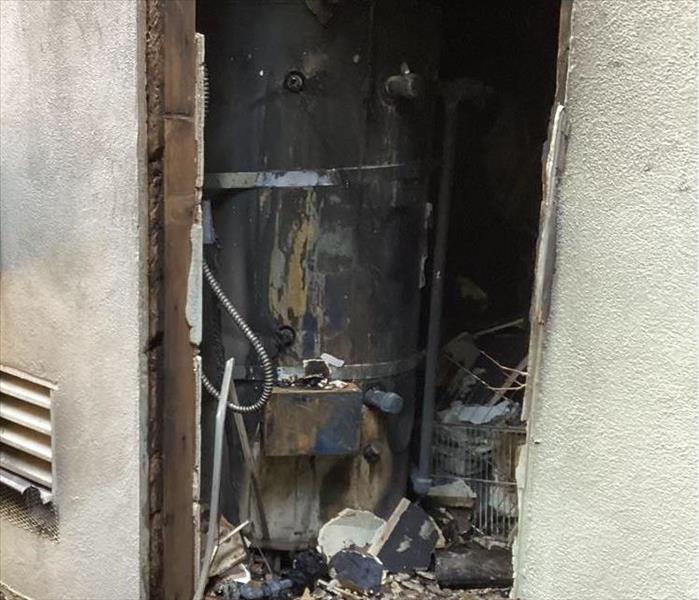 SERVPRO of East Sacramento/West Arden Arcade help apartment complex with fire damage caused by a water heater burst.
An apartment complex had fire damage when a water heater burst and caught fire. The fire was confined to the water heater room but smoke damage traveled affecting the adjacent rooms of the complex. The property manager had called SERVPRO of East Sacramento/West Arden Arcade to assist with the fire, requesting emergency clean up services to prevent relocating the majority of the residents. Typically, with fire damage, a fire investigation needs to happen prior to disposing and cleaning of materials.
Bringing in contractors and rebuilding may take some time, particularly for larger structures. In the meantime, you can ensure that your business is safe, secure and mitigation is underway. After reaching out to a restoration company, filing an insurance claim is the next step. Your insurance company and SERVPRO of East Sacramento/West Arden Arcade will communicate to determine structural damage and coverage of the loss.
What are the benefits of SERVPRO of East Sacramento/West Arden Arcade's Fire Damage Restoration Service?
Businesses can benefit from our emergency commercial fire damage service here in Sacramento County. There are several vital services SERVPRO of East Sacramento/West Arden Arcade can perform in the immediate aftermath of a fire that could help to save your business from unnecessary expenses. You can discuss with our staff throughout the restoration process to inform us of any potential valuables or outcomes you need.
Our first duty onsite is to inspect the building. Inspections can involve a pre-testing procedure to assess the extent of damage in your commercial building accurately. Our first concern is the security of your business, and our team can perform emergency board-ups of broken windows, doors, or ceilings to prevent unlawful entry and theft overnight. Followed by cleaning of flooring, contents, and structure to the property to protect you against secondary damages.
Restoring your business may take time, so contact SERVPRO of East Sacramento/West Arden at 916-285-7257 to help manage your commercial fire restoration.