Apartment Water Damage
12/20/2018 (Permalink)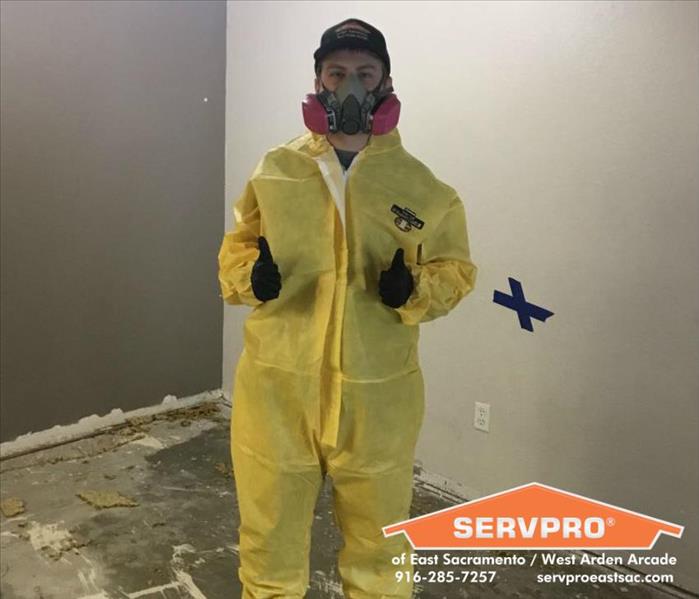 In this photo, our technician Daniel is wearing personal protective equipment before cleaning a contaminated bathroom in an apartment building.
In Sacramento and other areas in the valley, rain is a part of life. Being that we are surrounded by two large rivers, flooding can happen easily from weather, let alone all the ways that flooding can happen internally. (From blown water heaters, to burst pipes, we have seen it all!) When you are a landlord or a tenant when water damage hits, you may not know where to turn. It is important to know your rights in this situation.
If you are a property manager or landlord...
It is your responsibility to make sure that your property is habitable by its occupants. Water damage can easily lead to situations that are dangerous for the tenants' health. If it is too dangerous to stay, then you must find them somewhere to live while work is being done. According to California Civil Code section 1941, the landlord is responsible for providing tenants with habitable living conditions and repair any problem that makes the property uninhabitable, including water damage, with the exception of problems caused by the tenant, guests, children, or pets.
Your property manager should be able to help you dry out the water from the building, although they are not required to cover the loss or damage of your personal items. Review your rental agreement carefully to determine who is responsible for your repairs. Hopefully, you have renter's insurance, and your policy can cover the loss of any personal items damaged by water damage.
Preparation is Key
Water damage is every renter's and property manager's nightmare. It is best to know what to expect and how to protect yourself if it occurs. Having a relationship with a water restoration company can save your property more quickly, and SERVPRO of East Sacramento / West Arden Arcade is offering free Emergency Ready Plans for the upcoming year. Don't let water damage take control of your life. Give us a call today at 916-285-7257.
If you have water damage in your apartment building, don't hesitate. Give the pros a call today.
Click here to see tips on minimizing damage in apartment residences.