Sacramento Water Damage Restoration Contractors
11/26/2018 (Permalink)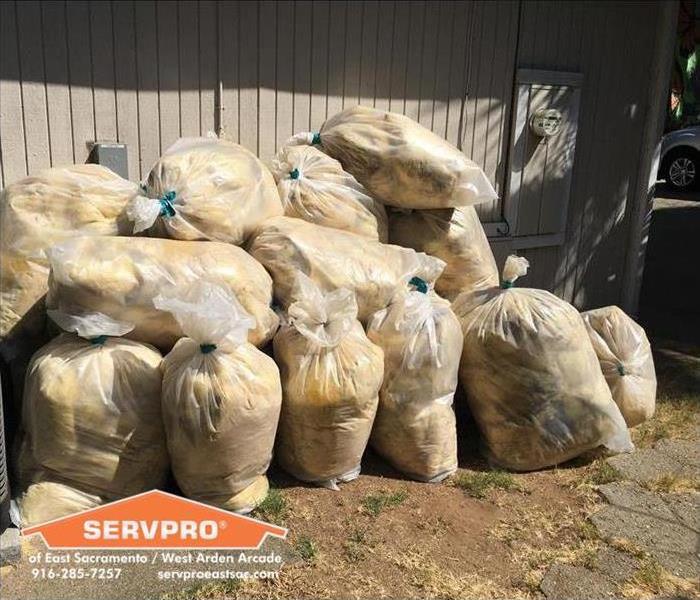 This is a bag of removed insulation from a water damaged Sacramento home. This insulation was so saturated with water that it needed removal.
So, you have water damage. Your floors are wet and the wood is cupping a little. The ceiling is bubbling, and starting to discolor. The water source has stopped, but there's still so much water. We know how frustrating this all can be, and thankfully, you have come to the right place!
What is at risk?
Time is essential when you are dealing with water damage and the key is to act fast! Water can damage and ruin your carpets, ceiling, and furniture, but it can also destroy precious family possessions, important documents, and irreplaceable, personal items. It is important to remove all of your valuables away from the damage including electronics, paintings, art objects, and documents to a safe, dry space if safe.
Common Water Damage Causes
Water damage can take many different forms and show up in your home or business in a number of different ways. If you suspect that you might have water damage, it's important to know what the common causes are so that you know how to prevent minor water damage from turning into a huge problem.
Some common cause are:
A leaky roof from a passing rainstorm or melted snow from a snowstorm
A broken pipe from your garbage disposal, water heater, or washing machine
Condensation around your air conditioner
Even if the issue is handled quickly, if it isn't handled professionally, water damage has been known to wreak havoc even months down the road. Often times the leak isn't noticeable and may be behind a wall or in the ceiling.
The longer water damage goes unnoticed, the higher the chance of mold growth. Moving quickly with a professional restoration company increases the chance that your personal belongings can be saved or restored.
Our Water Damage Restoration Process
Every water disaster is different, from the amount of water to the level of contamination of the water. Each scenario requires a unique solution, but the general process stays the same. The steps listed below illustrate our process for the "typical" water damage emergency.
Step 2: Inspection and Damage Assessment
Step 3: Water Removal/Water Extraction
Step 4: Drying and Dehumidification