North Highlands Mold on Water Heater
8/9/2019 (Permalink)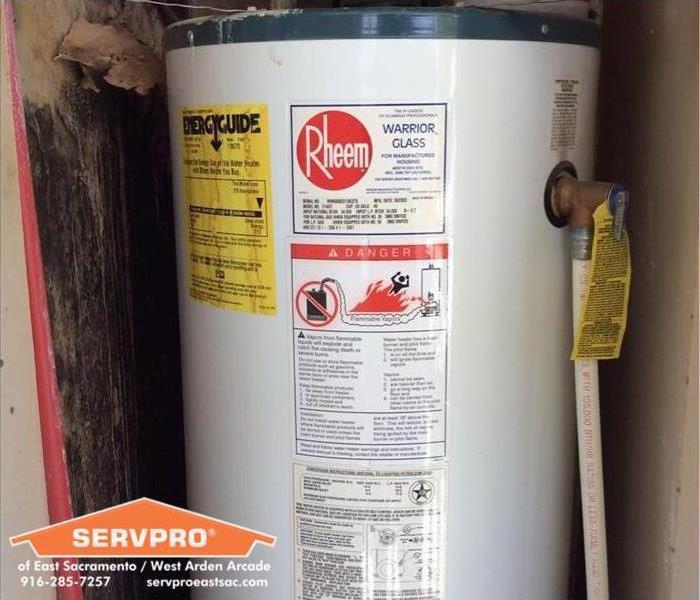 The damage in this water heater closet was caused by a valve not being tightened on the hot water heater.
When your hot water heater leaks, it can cause a lot of damage to your home, and left untreated, it can lead to mold growth. This mold that grows from hot water heater leaks can cause even more damage to your floors and walls, but it can also cause health effects. Because hot water heaters are often in places of the home where homeowners don't go very often, there have been many cases that we have seen where homeowners don't always spot a leaking hot water heater unless the problem has been ongoing for a while.
Spotting a Hot Water Heater Leak
It is important to know how to best identify a hot water leak, because the longer that damage sits in your home, the longer the damage can worsen. It is recommended that you check your hot water heater routinely to ensure that you aren't experiencing a leak in your home.
Water on the floor around the hot water heater
Discoloration of the floor and/or wall around the hot water heater
Mold on the floor and/or wall around the hot water heater
Musty odor in the area where your hot water heater is located. A musty odor is a sign of mold, and if you smell that odor, it means you likely have mold somewhere in your home, even if you don't see it. Since mold often grows in hard-to-spot areas, like inside walls, under carpet and linoleum, and inside heating and ventilation ducts, it's not unusual to smell mold but not see it.
Condensation around the hot water heater can sometimes make the floor wet and cause mold to begin to grow.
Other plumbing leaks can cause similar issues. Obviously in order to fix the problem, you need to identify it correctly. Any of these problems can lead to damaged flooring and mold growth, so they all need to be corrected as soon as possible.
Dealing with Mold from a Hot Water Heater
If there is mold around your home, it is important for it to be removed as soon as possible due to the health effects that your household may encounter. Mold can be removed from non-porous surfaces like tile floors with an antimicrobial cleanser and a scrub brush. It's not possible to remove mold completely from porous surfaces, though, like carpets, drywall and floorboards. Those materials must be removed (carefully, in order not to spread mold spores to other areas of the home in the process) and replaced.
If you are experiencing any mold-related health problems or if you have respiratory problems like asthma or any disorders of the immune system, we recommend not attempting to remove mold yourself because the mold removal process will expose you to more mold spores and can make your condition worse. To protect your health, we recommend calling in a professional for the job in those instances.
Every mold damage scenario is different, and requires a unique solution, but the general mold remediation process stays the same. The steps listed below illustrate a "typical" process:
Inspection and Mold Damage Assessment
Mold Containment
Air Filtration
Removing Mold and Mold-Infested Materials
Cleaning Contents and Belongings
Restoration
In order to prevent mold from returning, it is imperative that you repair any problem, leak, or plumbing problem that led to the development of mold. Otherwise, you'll soon find yourself dealing with mold again.
Getting Help with a Hot Water Heater Leak
If your hot water heating is leaking or you have mold around your hot water heater, we recommend calling in a mold remediation professional. Your technician can diagnose the problem, figure out where the water is coming from and let you know how to fix it. They can also locate any mold in the home, including mold growing in hard-to-see places, and let you know what needs to be done to correct that problem. If you are looking for experienced mold remediation professionals offering free inspections and consultations in your area, click here.